Strange Software provides internet and software development services, including websites, database systems, bespoke applications, custom programming, CD-ROM and multimedia production. Strange combines outstanding technical ability and experience with creativity and a long-proven track record of providing practical, effective and innovative solutions for our clients. We work for small businesses and charities, other computer hardware and software firms as well as larger businesses and blue-chip corporations as well as government and public-sector organisations.
We are based in East Anglia but have clients across the United Kingdom, in Europe and further afield and work remotely or on-site. We're always happy to talk about potential new projects without obligation...


More about us

Historical archive brought to life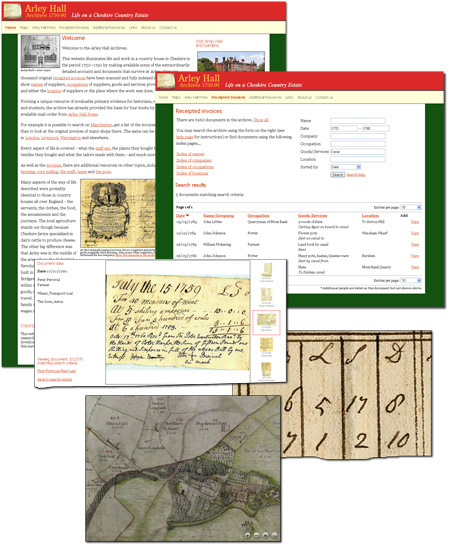 Strange Software has worked with the archivist at Arley Hall in Cheshire to bring some of the the estate's remarkable archive of original historical documents to the web. The collection includes over 6000 receipted invoices and other documents from the late 18th century which shine a spotlight into life on the estate and in the surrounding area in the early years of the industrial revolution and are a valuable record for historians and researchers as well as a useful educational resource.
Strange converted high-resolution scans of the source material into an easily browsed and searchable on-line database, allowing documents to be retrieved by a combination of date, location, the names of people or companies or goods and services mentioned, or via indexed lists. Documents are presented in a Javascript-based viewer which shows a freely moveable and zoomable image of the current document, along with clickable thumbnails of other selected documents. The high-performance scaling viewer allows users to easily move from viewing the whole of a document to examining the smallest detail within it... ideal with these papers which are hand-written and sometimes damaged or creased.
In addition to the central MySQL-based database, the Arley Hall Archives website includes supporting information such as historical and current maps and background articles, the high resolution viewer again being used to display larged scanned documents in situ on each page where appropriate.
Another sell out performance
5 June 2012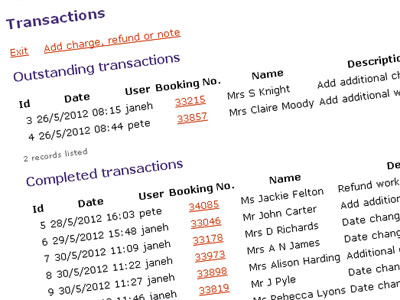 Tickets for both days of the 2012 Fairy Fair at the end of May sold out in advance over the web using our real-time ticket booking software linked to the Fairyland Trust's website. The system has been in regular use for the trust's events for six years now and books both entrance tickets and individual optional workshops for those attending, eliminating queues and delays at the gate during the event. Changes requested by the trust this year included issuing free tickets to regular supporters, various new workshops with individual prices and allowing adults to book places in some activities that previously have been reserved for children... all of which we could accommodate by modifying the now quite complex customised rules the system uses when making bookings and generating tickets.
But from an operational point-of-view, perhaps the most important change was a new facility for system operators to make arbitrary additional charges or refunds against a particular booking, in response to additions, alterations or cancellations requested by customers, including a new payment page where customers can directly pay for any additions without the need for staff to manually take and process a card payment. This relatively simply new module provided a large saving in operator hours as well reducing both time and money spent chasing customers and payments on the phone and we'd suggest that a similar application might have very immediate benefits for any business dealing manually with changing orders, bookings or reservations leading to a series of small transactions.
New website for local choir
20 May 2012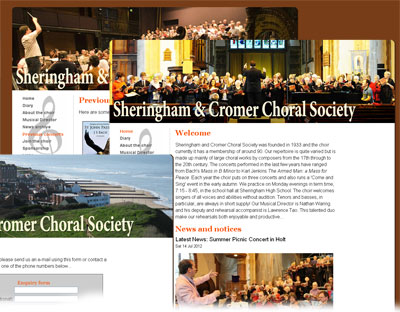 Strange Software has designed and implemented a new website for a local community choir, giving details of forthcoming and past concerts, contact and background information. The site features our web-based content management software (CMS) that allows non-technical users to easily post news, reviews, diary entries and other items on the site and to keep it up-to-date. In particular, the Site Manager includes a database of concerts and venues which is used to automatically format pages with upcoming events as well as a list of previous performances. The concert database includes title, venue and dates, an editable programme of the music to be performed, descriptive text and entries for performers, booking and ticket details and an optional link to further information or a related website.
Backcam makes the news
29 November 2011
Monday morning was interrupted by a phone call from Anglia News; apparently we might be able to help with images of the previous night's surge tide for a story they were preparing about the flooding and flood warning system around the Norfolk coast. The Backcam program which we added to the Wells Harbour website in 2006 had indeed captured a sequence of images showing the quayside covering and the local fishing boats being moved off onto the pontoons. We were able to promptly send over a set of frames and a sample animation which duly appeared on that evening's regional TV news, as well as the web.
For some other examples of Backcam's work, see these time-lapse videos of the tide at Wells produced for the Wells Harbour website.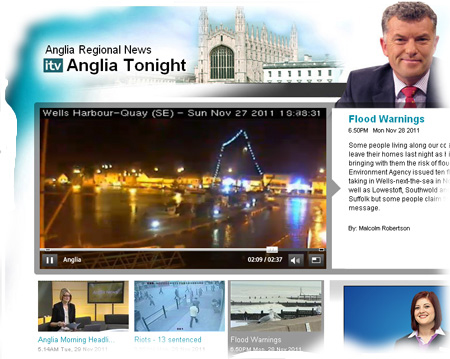 Some back chat...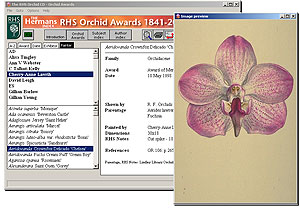 RHS Orchid Awards CD
Strange Software developed a Windows CD-ROM for retail sale for the Royal Horticultural Society which provided easy access to a treasure trove of information about orchids. The main database detailed some 13,000 varieties and included over 6000 paintings. The disc also featured a unique and comprehensive index to over 100 years of The Orchid Review - many scientific libraries and collections have complete or part sets of this authoratitive journal but this was the first complete key to its contents.
This was a classic specialist CD project, combining a demanding data set with a restricted budget. Strange adapted our tried-and-tested card index database to the task, to economically produce a customised front-end that was simple to learn and fast in operation. The disc autoran without any prior setup or installation on the vast majority of PCs, helping users to get to the data with the minimum of fuss and minimising technical support calls.
Website ©Copyright 1996-2013 Strange Software Limited. All rights reserved.
Strange Software Ltd, Wells-next-the-Sea, Norfolk, England, NR23 1HL.
Tel (01328) 711486  Intl +44 (0)1328 711486