Strange Software is a small, independent UK software house. Since 1987, we've completed hundreds of projects for clients, large and small, across the UK and around the world.
We've deliberately kept ourselves as a small, lively, private concern because our real expertise and value (and our own satisfaction) is in actually doing the job. We like to write code. We like to design user interfaces. We like solving difficult problems. We like to create and to innovate. We delight in producing effective and impressive programs, popular CD-ROMs and successful websites.
We take great pride in getting text word-perfect and databases spot-on. We can spend hours working on a graphic pixel-by-pixel, tuning a product to go that much faster or sitting up late into the night ensuring that our software works reliably first-time for as many users as possible.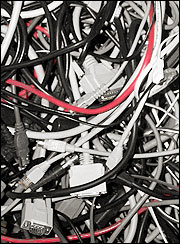 We understand that exploiting new technologies properly means getting our hands dirty. A major part of our income is invested in new equipment and software and we spend as much time as we can learning, experimenting and exploring. We can't claim any more to "have one of everything" (we reckon we came pretty close in our early days) but we have built-up and continue to add to an impressive array of systems that lets us develop for and properly test in a wide variety of environments. Our internal systems continually change and adapt to current needs... at present, that includes a wireless hotspot service, multiple ADSL broadband connections as well as co-hosted dedicated web servers, web cams, SMS text message service and a voice over IP system providing free telephone calls between our offices, homes and workers.
But it's not about just having the kit. We started with a strong technical expertise that goes back to the first microcomputers (and some way beyond) and have been developing our experience and skills ever since. We've worked on many varied projects on all kinds of hardware with all manner of languages and operating systems. It gives us a real fundamental model of how things work and makes us well-placed to deal with difficult problems, esoteric requirements and to work successfully in new and developing areas.
Equally importantly, we've worked with clients from small start-ups and one man bands to big publishing firms, large public companies, blue chip corporations and local government departments and in all manner of industries such as horticulture, law, medicine, manufacturing, maritime, publishing and pensions. So we've picked up a bit about how business and businesses work. We believe we're unusually good at discussing projects and requirements with our customers in plain, easily-understood terms. We're sensibly unfixated and unphased by this year's latest technology buzzwords, fancy jargon and supposedly revolutionary products. And we've a rather down-to-earth, practical approach to creating effective business applications that make a positive contribution to your bottom line.

Strange Software is based in Norfolk on the eastern side of the United Kingdom. Some of our regular clients are nearby, others are across the country as well as in Europe, the United States and even, in one case, Australia (we've been working remotely and shipping jobs around the world via high-speed modem since well before the emergence of the World Wide Web*).
We are regularly in London, Cambridge, Ipswich and Norwich for clients there and happy to travel to other locations when appropriate.


Have Thinkpads, will travel.

Carl Phillips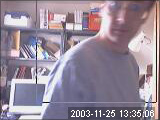 A skilled software developer and a devil with a debugger, Carl abandoned school shortly after acquiring one of the first single-board microcomputers and subsequently demanded a job at one of the UK's first Apple dealers. He joined Microsoft when it set up shop in the UK and for a while headed up the company's technical side in Europe, helping hardware manufacturers to bring languages and MS-DOS up on their systems. He set up Strange Software in 1987 which has kept him busy since.
Max Phillips

Max started out writing about rather than for computers, a familiar name and occasionally face in UK computer magazines during the early 80s, as well as contributing to or writing books, manuals and brochures and even, for a while, creating ads for firms such as Microsoft, Caere and Radius at a trendy London design agency. He co-founded Strange in 1987.
Find out more about what we do ...
Website ©Copyright 1996-2013 Strange Software Limited. All rights reserved.
* Our Courier HSTs would step down when necessary to talk to our customers