Internet applications
We spend much of our time making it happen on the web. As programmers, we're comfortable working with all web technologies and can quickly see how a particular idea or requirement can be made a reality.
We are able to supply complete turn-key websites designed to your specification. We can write copy as well as code and do site design and graphics or photography, leaving you free to concentrate on your business. Alternatively, we can work with your existing web design team to do the difficult or 'boring' technical bits that they can't manage or don't want to get involved with.
We're also able to help with existing applications or scripts if that's what you need. We can patch, port, fix or enhance them or take them round the back and shoot them if that's the kindest thing to do, replacing them with more manageable and capable alternatives.
We're able to work with most products and technologies but our general preference (in case you're asking) is for Linux or BSD servers running Apache with cgi-bin scripts written in C or Python utilising tools such as MySQL, Ghostscript and sendmail.
We're happy to discuss any web project, large or small. Let's face it, we're not all Amazons or eBays and quite a lot of small business websites really need a few well designed and implemented scripts rather than full-blown applications to make a real and profitable difference to their operation.
Since we can't list everything we might do for you, here are some of the applications and services we have supplied on the web:
Banner advertising system
Booking systems
Calculators and small applications
Digital camera image database
E-learning and training applications
E-Mail groups, mailing lists, chat forums
Enquiry, contact and response forms (simple little ones like this generate lots of business)
Events listings and diaries
Search and query engines
News editor and publisher
On-line databases
On-line questionnaries and surveys
Personal calendar and appointments
Document delivery (purchase-and-download)
RSS news feeds
Server monitoring and testing
Shared file space
Software unlock and trial schemes
SMS text messaging system
Ticket sales
User log-in and access system
Visitor counter and statistics
Please get in touch to discuss your project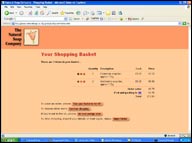 E-commerce Our own shopping cart software lets us create tailor-made e-commerce websites, with product databases or static pages, sales by item, weight or volume, automatic calculation and real-time display of postal and delivery charges and order processing by common payment services or delivered securely to your sales people.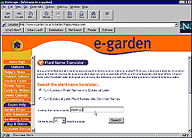 Search engines We can quickly provide a search engine-style query feature for your site based on your database(s). Equally, we can create calculators or other tools specific to your business or industry to help your customers or users or simply as a highly-effective way of encouraging visitors and traffic to your site.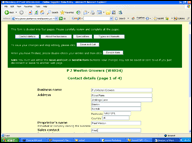 Questionnaires and data collection We can set you up to conduct a survey or collect data remotely via the web. You can give each user secure access to their own pages, monitor progress as user's complete their entries and have the results collated in a new database on demand.