Website and IT systems for new community hospital
2 January 2008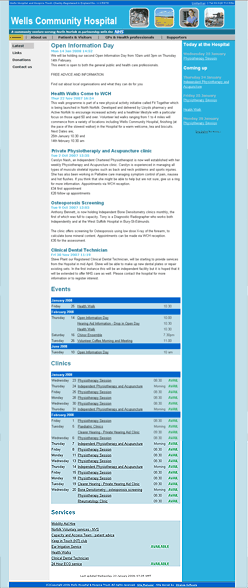 Strange Software has been involved with the IT systems at the newly re-opened Wells Community Hospital. After extensive local campaigning, the hospital now belongs to and is managed by a newly formed Charitable Trust, providing mainly NHS treatments and clinics to the local community at no cost to patients.
As well as installing and managing a new network within the hospital, based on Windows PCs running Microsoft Office applications, web-based e-mail and a Linux file server with automatic daily back-up, Strange also developed and now hosts and manages the hospital's new website.
It is particularly important for this bold venture to provide up-to-date and easily accessible information about its progress and the services it offers to the local community, including local GPs, patients, volunteers and supporters. With this in mind, the website is largely database-driven and includes a set of features that allow non-technical and volunteer staff to easily maintain and update it from the hospital or from their home or other locations.
The home page includes a generic news facility where news, notices, information about fund-raising events and similar can easily be posted and updated. There is also a database of upcoming clinics and other events, such as fund-raisers or open days. Information from this database is used to provide a calendar of what's happening at the hospital on the home page, including both a full listing and a 'today at the hospital/coming up' section. This is updated automatically every day to keep the website fresh and up-to-date without having to take up vital staff time. The same database is used to provide a search facility and more detailed specialist information for GPs and will, as the hospital grows, be linked to the hospital's patient booking and record keeping systems.

Daily property listing update updated
5 December 2007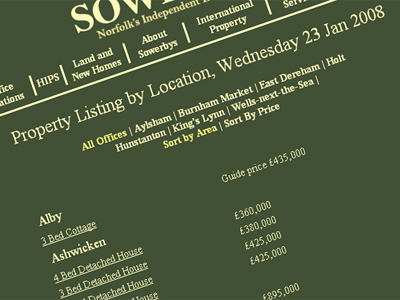 Leading Norfolk estate agent Sowerbys asked Strange Software to provide an enhanced property listing service for its new website. A 'screen-scraping' application on one of Strange Software's high-performance servers reads a list of properties offered by the company via a web search engine every day, storing and parsing the resulting pages to provide an up-to-date list of homes for sale. The software then prepares 14 new web pages showing the properties all on one page or broken down by the company's seven branch offices, sorted by both area and price... and then uploads these pages to the company's website. This process happens automatically once a day without having to involve Sowerbys staff or it may be invoked manually if the company has an urgent instruction or has made major new listings during the course of a day.
Detailed safeguards are included to avoid errors... data is verified and the software will not update the website if, for example, the web server the data is obtained from is not available or if the data retrieved appears to be incomplete or corrupt. The software also includes a set of rules and a dictionary for correcting the incoming data to ensure consistency. For example, common typing errors or variations of village names are picked up and made consistent so that properties list correctly under preferred headings. The software sends a daily report of the work it has done when successful and has the option to raise a more pressing alarm with us if it feels it is unable to complete its task.
Custom data collection over the net
27 August 2007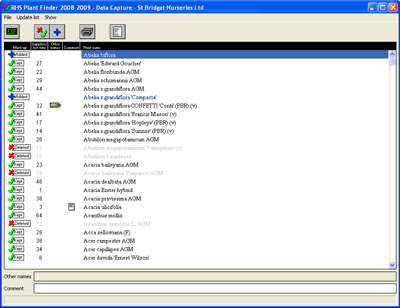 The custom Windows data capture application developed by Strange Software for the Royal Horticultural Society has been updated to include a facility to return collected data directly over the internet. The program is distributed each year to nurseries and plant growers to let them easily update the list of plants they offer for sale in the RHS' database, published in the best-selling publication The RHS Plant Finder. Each nursery receives a CD-ROM with the software containing an encrypted version of its current plant listing and a database of over 120,000 plant names and synonyms so that the nursery can easily mark deletions from its list, add new plants it supplies or even comments or notes where there is some question over the names or species being offered. The application greatly speeds up and simplifies the process of amending the data and reduces the chance of error, both by eliminating the need for manual data-entry and by essentially pre-coding much of the data for direct import into the RHS's database.
This year, for the first time, an integrated upload facility was included in the software so that finished data could be returned directly to the RHS rather than asking users to e-mail it or post it on CD-R or floppy disk. To make this as straightforward as possible, an ftp file transfer client was built into the program. This can be chosen with a few mouse clicks from the File menu without the user having to locate a data file, type a server name in or start any other software. The software then uses the PC's internet connection to transfer the file; a matter of seconds for smaller data sets or a few minutes for larger ones, depending on the speed of the user's internet connection. Early trials pointed out the need for extensive error checking and the production version included a fallback facility so that if the RHS' ftp server was unavailable for some reason, the software would automatically send the data to a back-up server at another location.

Some more back chat...
Website ©Copyright 1996-2010 Strange Software Limited. All rights reserved.